Worthy Words
Issue 6 | May 2023
The instant I walked through the door of the antique store, I was transported back in time. Less like a store, and more like a museum, it's organized in themed sections, each one staged as a vignette hearkening to a scene from the days of old.
A jukebox, a chrome-wrapped table, and funky soda pop light fixtures set the stage for a retro lunch of burgers and fries. A dimly lit corner displays floral-papered walls, ornate furnishings, and fancy collectibles to impress parlor guests.
But it's the plain, tiny kitchen that captured my attention. Brittle, faded posters with helpful tips for homemakers are plastered inside the doors of the storage cupboard. Fascinated by the descriptions of a woman's life a century ago, intrigued by the demands of her daily duties, and jealous of the simplicity of her routines, I reluctantly left the store and re-entered the "real world".
Nostalgia is harmless, right? Sometimes a brief walk down memory lane is the only feasible means of escape from the complexities of the present.
But Ecclesiastes 7:10 (NLT) bluntly challenges our nonchalance on this matter. "Don't long for 'the good old days'. This is not wise." The ESV is just as clear. "Say not, 'Why were the former days better than these?' For it is not from wisdom that you ask this."
Honestly, my flesh does not like this verse, and I'm tempted to justify my wistful longings for a bygone era. But God's Word is my final authority, and if He says desiring "the good old days" is foolish, I must renew my mind accordingly.
If, like me, you struggle with discontentment in the here and now, I'm glad to tell you that the Bible has encouragement for us.
In 2 Corinthians 4:17-18, Paul reminds us that our entire earthly existence is a fleeting blip on our eternal timeline, and the best is yet to come! And Colossians 3:1-3 parallels the passage in Corinthians with the exhortation to fix our eyes on the glorious promise of eternity instead of what we see in the present.
The Bible also acknowledges the benefits of looking back at history. It teaches us wisdom. Taking time to remember what God has done and how He has shown Himself through the events of the past is a vital part of strengthening our faith (Joshua 4).
The key is to guard our hearts against discontentment. Learn from the past, remember what God has done, then take the posture of Paul: "forgetting what lies behind and straining forward to what lies ahead, I press on toward the goal for the prize of the upward call of God in Christ Jesus" (Philippians 3:13-14).
As we meander through the pages of our Bibles, let's keep our eyes open for glimpses of the future God has planned for us. Meditate on His promises and what we have to look forward to—especially eternity with Jesus!
After a mental reset by immersing myself in Scripture, my leaning toward the antique has shifted away from languishing discontentment in the present to eager anticipation of a glorious future!

God is good. His Word is true. And He is always faithful. 
Soli Deo Gloria! To God be all the glory!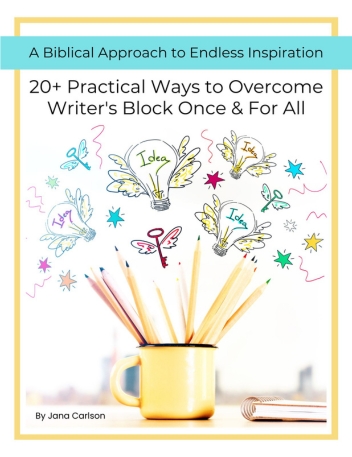 For Subscribers Only
A Biblical Approach to Limitless Inspiration
In this 12-page resource, you'll discover:
Common causes of writer's block in the Christian writer
Where our words come from
3 biblical sources of inspiration
You'll also find more than 20 practical ways to stay inspired forever and get started with 20 unique writing prompts.
What's Your Spiritual Scent?
As followers of Jesus Christ, we have a spiritual scent. With it, we can attract others and be a pleasing aroma to the Lord. But we can also give off a stench.

Read more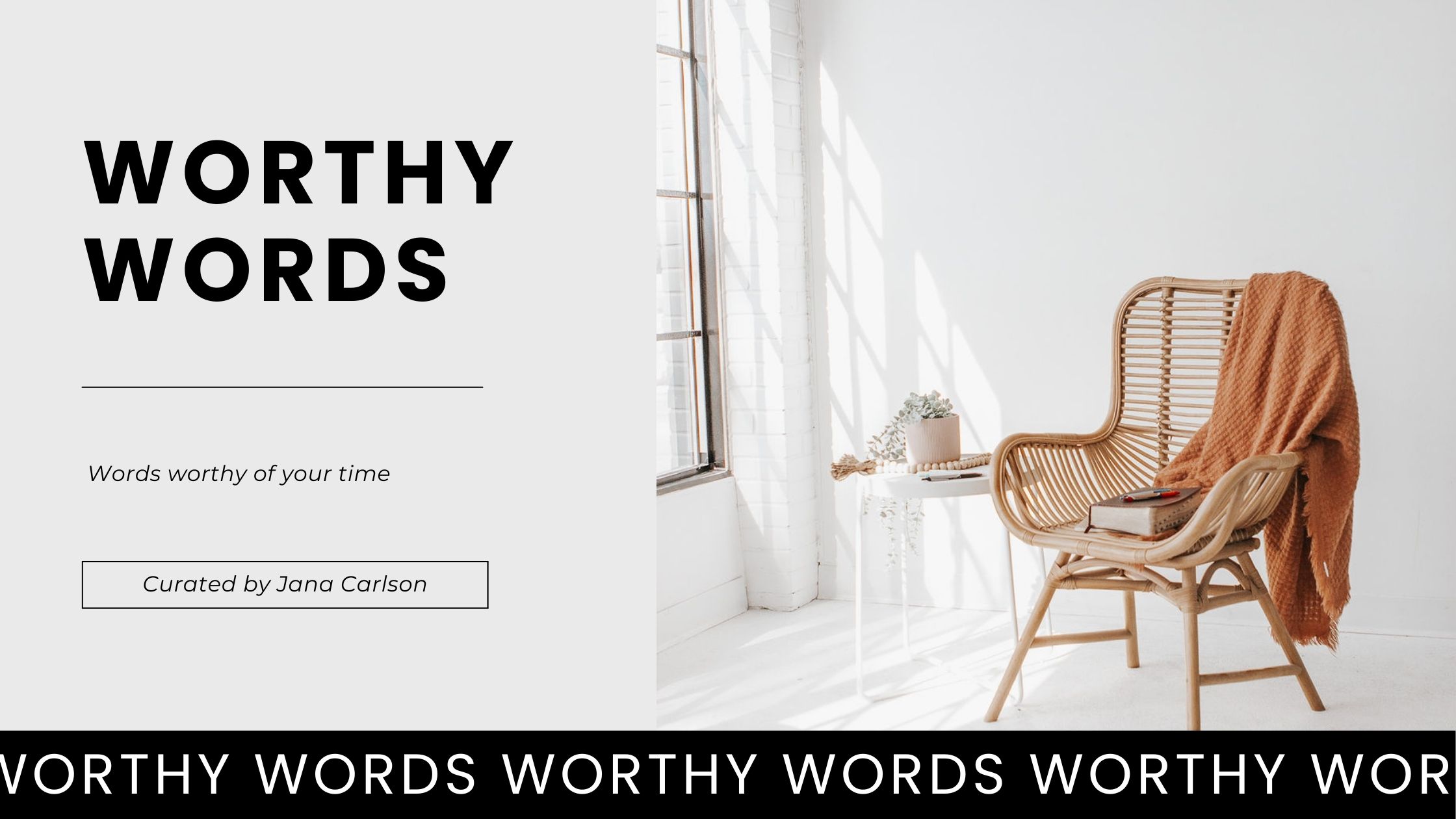 Curated Content
I've switched the curated links section of this newsletter to a weekly post on my blog—more Worthy Words, more often! Check out the latest links from last month here.
Last month, I shared all my favorite resources for Christian writers. This month, I put together a page for my recommended Bible study resources. 
*Now that the weather is getting warmer, I've been using my air fryer more often. After borrowing a bunch of air fryer cookbooks from the library, Air Fryer Perfection is the one I ultimately bought. There's a photo of every recipe, and the recipes are laid out with a lot of helpful detail and tips. Every recipe I've tried from this book has turned out great.
Speaking of my air fryer, I did find a recipe online that's scrumptious. Try this Air Fryer Peach Cobbler!
I'm picky about water bottles. They must: 
fit into the cup holder in our car, 
have a handy carrying loop, 
be double-wall stainless steel to keep water ice cold and tasting great, and 
have a flip-top straw spout so I don't have to tip it up to drink. 
I've had my Hydro Flask for almost a year now. I've dropped it multiple times, but it's still in great shape, and I love it! (I have it in the sunny Starfish color.)
Our son invited me to join him and his fiancee in an at-home "escape room" game. I loved it! We played this one, but there are many in the series at varying difficulty levels. 
It's official. My husband and I are now empty nesters. Our son (the youngest of our three kids) moved into his own place last month. 
In the days leading up to his move, one of our daughters asked, "Mom, are you going to cry on his moving day?" My husband quickly responded, "Of course not! This is a good thing. We're proud that our kids have become responsible, independent adults!"
He's right, of course. Psalm 127:4 compares children to arrows, and arrows are meant to be released. 
By God's grace, my husband and I have worked hard over the past 25 years to cultivate a relationship of connection beyond the scope of our roles as parents. We love spending time together!
I'll miss our son, as I miss each of our daughters. And while I can't say I won't ever cry about our nest (or our quiver!) being empty, I can honestly say I'm looking forward to this new season, whatever it's going to look like. 
Thanks for reading this month!
I love hearing from you! Feel free to reply to this email. I read and respond to all my reader emails! 
Until next time, wield the Word, my friend!
*As an Amazon Associate, I receive a small commission when you purchase items via my referral links. This doesn't add cost to you, but it helps to offset the costs of running my website and creating more content.
218 Alpine Ave SW, Calgary, AB T2Y 0R8
Canada
You received this email because you signed up on our website or made purchase from us.
Unsubscribe